Coffee with Council
Holland City residents are invited to join Mayor Nancy De Boer, the Holland City Council, City Manager and other City staff at the annual Coffee with City Council. Wednesday, January 10, 5:30 - 7pm, in Council Chambers OR Saturday, January 13, 9 - 11:30am, Cento Anni, Warehouse 6, 136 E. 6th St.

Frosty Fun Day at DeGraaf
This fun filled fundraiser will begin with games and a scavenger hunt for school-aged children with guided explorations on snowshoes as well as

 

live music from Tiki O'Riley Irish Band.  Inside will be a winter themed craft.  Starting at 5 p.m. we will have a selection of homemade soups/stews, bread and beverages available by donation. Trails will be torch-lit in the evening for self-guided snowshoeing/ walking too. This is sure to be a great family friendly event for all ages.

Saturday, January 27, 3 - 7:30pm.
 November Storm - Holland State Park
Friendly Winter Reminder
As a friendly reminder to City residents - do not plow snow into streets. This creates a potential traffice hazard. Thank you for helping to keep our streets safe for everyone.
Video of the Month
Our Multimedia Specialists have been busy - 12 months wrapped into 1 minute and 30 seconds, the 

2017 Year in Review!

Thank you everyone for all that makes Holland a great place to live, work and play.
Make Time for Wintertime Fun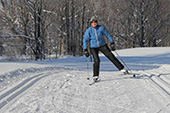 Cross Country Ski Trails
Groomed cross country ski trails are accessible from 16th or 24th Street entrance to

Van Raalte Farm

. Bring your own skis, sorry no rental available. Open Sunday - Saturday, Dawn to 11pm.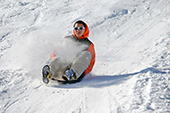 Sledding at Van Raalte Farm
The sledding hill at

Van Raalte Farm

is accessible from 24th Street between Waverly & Country Club Roads. Open Sunday - Thursday Dawn to 10pm; Friday & Saturday Dawn to 11pm.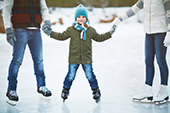 Ice Skating at Lakeview Park
Bring your own skates, sorry no rentals available. The rink is open 7am - 11pm daily (weather permitting). Lakeview Park is located on

32nd Street, west of Lugers Rd.
Economic Development: Sustainable Government
This program will explore various sources of local government funds and review the City and County budget process. What are the near term needs within the community, and how should they be supported?

Living Sustainably Along the Lakeshore hosts this program on

Tuesday, January 9, 6:30 - 8pm

at Hazel B. Hayes Auditorium.
Welcome Ken Freestone
Ken Freestone is the City's new

Residential Energy Advisor

 and will manage the Home Energy Retrofit Program. Ken has served as a Holland City Council Member, and was the Executive Director of the Macatawa Greenway Partnership. Ken looks forward to working with City residents in home energy efficiency improvements.
Happening in Downtown Holland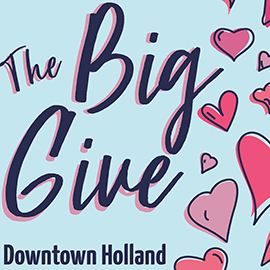 The Big Give - Coming Soon
Mark you calendars

…because this is one event you won't want to miss!

On February 3,

Downtown Holland businesses will be thanking the community for their support by giving back in a big way! Participating merchants will be donating 15% of all sales that day to local charities. The best part? You get to select from a list of participating charities to select a cause that's close to your heart!  So gather your family and friends and get ready to shop the day away to help our community!  The Big Give is proudly sponsored by Beacon Sotheby's International Realty.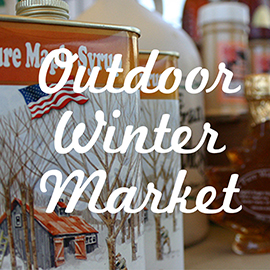 Outdoor Winter Market
While the regular season of the Holland Farmers Market has come to an end, the annual Outdoor Winter Market will return to the Eighth Street Market Place on Saturday, January 6 from 9:00 am - 12:00 pm. The Outdoor Winter Market is held the

first and third Saturdays from January through April

.  Over 10 vendors will be joining the Winter Market selling apples, root vegetables, honey, maple syrup, bread, dried beans, baked good, meat, tortillas and more!  Get your fresh fix all winter long!
Storyteller La'Ron Williams Coming to Holland
The City's Human Relations Commission is bringing nationally acclaimed and award-winning storyteller La'Ron Williams to Holland. Williams presents folktales based on African and African-American traditions. His stories incorpate lessons about self-esteem, self-reliance, perseverance, and the struggle to expand the American ideal of democratic inclusion.
Koffie Kletz
When the temperature drops below zero the Dutch go crazy! In extra-cold winters thousands of them (including the King) take to the ice to skate 200km in sub-zero temperatures – and pay to do so! The grueling event is known as the Elfstedentocht  or Eleven-cities tour and has occurred 15 times in the last 125 years. When it is held, the entire nation shuts down to watch skaters brave the Frisian canals for an entire day. On Saturday, January 13, 10am, we'll discover the story of this mind-boggling race. 
Cultural Tour to Santiago de Queretaro
Holland's International Relations Commission in collaboration with Pathfinders Travel, Inc. is planning a cultural tour to Santiago de Queretaro, Holland's Sister City. Tour dates are 

April 14 to April 21, 2018

and will be guided by a local licensed guide.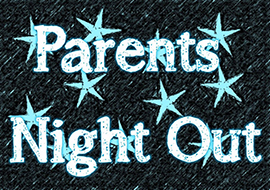 Parents' Night Out
Drop your kids off for a fun night with Holland Recreation,

Friday, January 26!

They will get to play board games, enjoy a pizza dinner, color, play volleyball, play the Wii and more! The event will take place from

6-9pm

and children grades kindergarten through 6th

 

are welcome!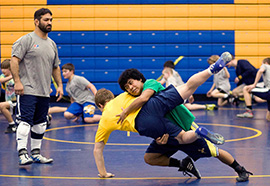 Youth Wreslting Clinic
Register for Session 2 of Holland Recreation's youth wrestling clinics. This session will run on Monday evenings from January 22nd

 

until March 19, 2018.

Register by January 15 to reserve your spot!

Open to youth kindergarten through 8th grade.
Project Clarity Update
In 2018, Project Clarity will be celebrating five years since the first project broke ground. The

 

November 2017 Dashboard Report

 

highlights water quality projects and outcomes throughout the years. Monitoring results for 2017 will be published in the first quarter of 2018.
Project Clarity Events - Save the Date
The annual Project Clarity Agricultural Luncheon is

Thursday, February 24, 

at Zeeland Farm Services. The keynote speaker, David Brandt of Brandt Farms will present information on cover crops and no-till farming.
The annual Project Clarity Community Update will be held on

Thursday, May 24

, 7:30 - 9am at Boatwerks Waterfront Restaurant in Holland.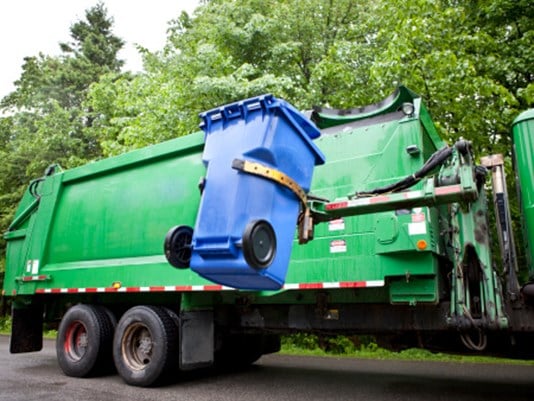 No Holiday Garbage Pick Up
No garbage pick up on January 1st. There is one day delay for the remainder of that week.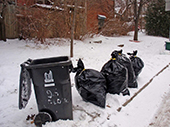 Excess Holiday Garbage Pick Up
December 26th  through January 6th. No packing peanuts or strofoam with the excess pick up.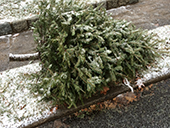 Curbside Christmas Tree Pick Up
December 26th through January 6th. Trees must be cut to 6 feet or less.
Pay It Forward Holland, Michigan

The City of Holland is one of the happiest communities in the country.  There is a reason for that generosity of spirit.  Love is a chain. . . don't be the missing link.  We are encouraging Holland residents to perform random acts of kindness for others throughout the day. The concept of "Pay It Forward" is to do a good deed for someone and encourage them to pay it forward to someone else, rather than repaying you.  How do I get started?  Check out the list of simple ways you can begin to Pay It Forward: 

  

www.payitforwardholland.org
Passport Hours




The Holland City Clerk's office accepts applications for new passports for US citizens Monday - Friday, 

8:00 a.m. - 4:30 p.m. 

No appointment necessary. Photo service for passport photos is available in the Clerk's office. The Clerk's office will also be open some Saturdays throughout the year 

by appointment only 

for passport services. 

The 

Clerk's Office is located on the 2nd Floor, Holland City Hall (use South building entrance off parking lot). 
City of Holland  All rights reserved 2016©